One of our long-time customers, Tim Braden Jr., shared the story of his 1967 Chevelle that surely makes it a special ride.
Tim's parents bought the car with 3,000 original miles back in the day, and in 1977 it was stashed away in a barn because GM was having discussions that they weren't going to make more convertibles. Tim and his father took the car out of storage in 1994 to begin the restoration process of this all-American classic.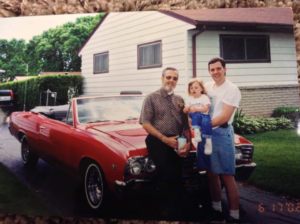 Unfortunately, Tim's father ended up with Esophagus Cancer and passed away before they could finish up the restoration. Esophagus Cancer makes up about 1% of all cancers diagnosed in the United States.* (Read more from the American Cancer Society HERE ).
Tim took it upon himself to continue on with the restoration to make sure his parent's Chevelle was brought back to its former glory - and then some. After deciding to part with the 283 that was originally in the car, Tim reached out to us and decided to put in a 383 Stroker mated with a built-up 350 trans. He even had us engrave his father's name on the driver's side valve cover, and his own name engraved on the passenger side valve cover.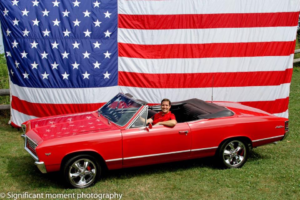 Browse GM High-Performance Crate Engines from Tri Star HERE
Tim's build was completed with Flowmaster Super 40 Series mufflers and Flowmaster long-tube ceramic headers (HEAR THE EXHAUST HERE). Below you can find a build sheet from the Chevelle. We are honored to have been even a small part of this very special build and grateful for Tim to allow us to share the story with everyone!
Watch video footage including dyno test and exhaust on Tim's Chevelle! Click HERE
( Skip to 0:58 to hear exhaust and dyno footage )
Build Specs:
Bore: 4.030
Stroke: 3.750
2pc. Rear main seal
9.7:1 compression ratio
Blueprinted, CNC machined and dyno-tested
Components
4 bolt main seasoned OE block
Scat 9000 series cast steel crank
Scat 4340 forged I-Beam rods with ARP 8740 cap screws
Keith Black hypereutectic pistons # KB135
Moly rings
Clevite main and rod bearings
True roller double roller timing set
Howards roller camshaft # 110245-12
 Advertised duration: 278 (intake) 284 (exhaust)
 Duration @ .050": 225 (intake) 231 (exhaust)
 Lift: .500 (intake) .510 (exhaust)
Howards hydraulic roller retro fit lifters with tie bar
Dart SHP aluminum cylinder heads
 200cc intake runner, 64cc combustion chambers
 2.02 intake 1.60 exhaust stainless valves
Fel Pro head gaskets
Scorpion Race Series roller rocker arms
HP valve springs
Hardened pushrods
MSD plug wires
AC spark plugs #41-602
Chrome timing cover
New stamped steel oil pan w/ 1 pc. pan gasket
HD Harmonic balancer #80001
Quick Fuel Hot Rod "HR" Series carburetor
Edelbrock Endurashine finish intake # 71014
MSD Pro Billet Ready to Run distributor # 8360
Melling high volume oil pump
Edelbrock Endurashine finish water pump, short style # 88104
SCAT SFI rated flexplate # FP-400-SFI